Streamline web filtering and CIPA compliance for students whether at campus or at home
Extend CIPA compliance via the cloud for any student on any device
Extend CIPA compliance across all students regardless of device type or student location, including on-campus and at home.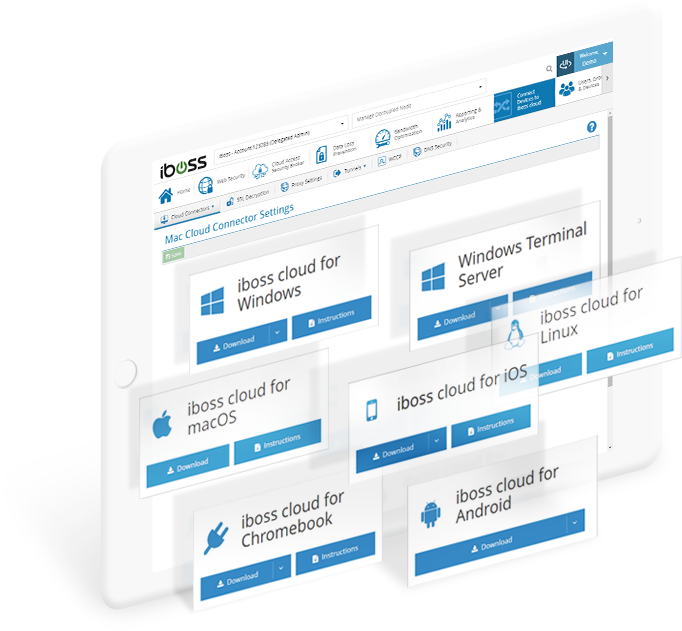 Extend CIPA compliance across all devices including Chromebooks, iOS, Macs and Windows easily
Unlike the private sector, schools are typically managing multiple devices and operating systems. From students on Google Chromebooks or Apple iOS devices, to library computers running Windows, all devices must meet CIPA compliance. Further, to ensure students and staff have access to the information they need, the ability to provide consistent cloud access regardless of what device they are using is critical. The iboss cloud delivers the same level of powerful filtering and user-based reporting across all users, on any device, anywhere seamlessly through the cloud eliminating the need to purchase and manage multiple solutions.
Eliminate the cost and hassle of managing multiple products to secure students when at home versus at school
Leverage a single platform to secure all students whether they are at home or at school. This eliminates many pain points with managing multiple solutions including inconsistent Internet usage reports when students are at home vs. school, inconsistent Internet access as well as the additional cost and resources to manage multiple solutions. Achieve a single pane of glass view across all students and consistent Internet access policies whether students are on or off of network with the iboss cloud.

Any Service

Any cloud
Containerized architecture allows microservices to concurrently run across multiple clouds / data centers
Any engine
Single-pass scanning, elastically scales horizontally across any cloud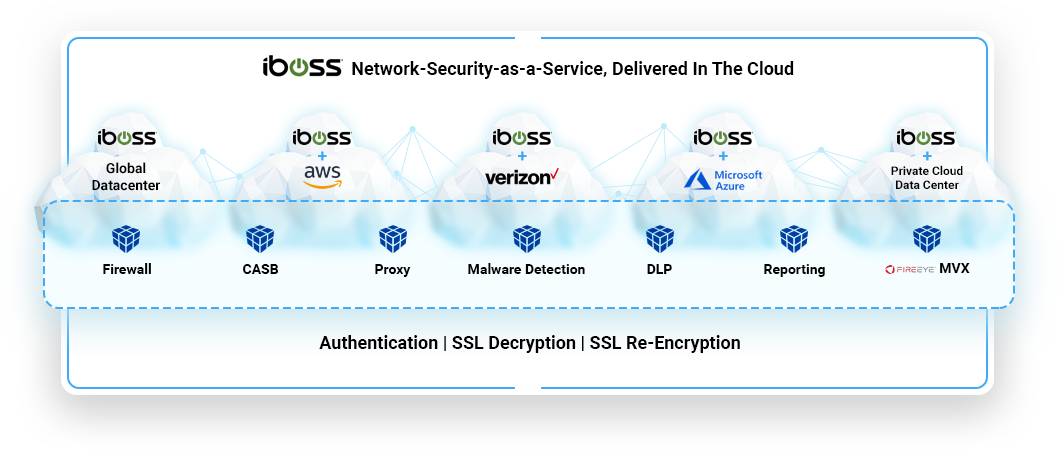 Any Network

Any Device

Reduce cost by leveraging the iboss cloud that scales infinitely as bandwidth increases
The demand for bandwidth is growing as more devices and applications connect to the Internet. Meanwhile, the cost of bandwidth is going down allowing schools to increase connectivity speeds. Yet, traditional filtering appliances create a bottleneck in your network and cost thousands to upgrade in order to support this growth. iboss cloud allows schools to scale with the elasticity of the cloud while eliminating the need for traditional web filtering appliances saving time and money.
Users Go Mobile
Desktops change to laptops and users are no longer in the network perimeter.
Encrypted Traffic
Unencrypted traffic shifts to encrypted HTTPS traffic due to mobility.
Cloud Applications and Files
Applications move from servers to SaaS, and data & files move to online storage & access.
Bandwidth Explosion
Increased bandwidth usage due to remote users accessing remote cloud data needed for productivity.
Security Moves to Cloud
Data Center network security moves to the cloud where the users, applications, and data live.
Buy Now
The iboss cloud can secure user Internet access on any device, from any location, in the cloud. Best of all, you can start using it immediately to protect your users instantly.
What you get
In the cloud Internet security
Advanced Internet malware protection that follows users
Advanced cloud and SaaS controls
Web filtering and compliance controls
Internet security for in-office users without appliances
Branch office Internet security without data backhaul
And a lot more…
Contact Us
Get in touch with a technical specialist
for a live demo.
North America Sales:
877-742-6832 X1
Contact local distributor or:
[email protected]
International Sales:
858-568-7051 X1
Contact local distributor or:
[email protected]
EMEIA Sales:
+44 20 3884 0360
Contact local distributor or:
[email protected]