Seamlessly and easily secure Apple iOS and macOS devices with iboss cloud
iOS and macOS devices are powerful devices that are popular and inherently mobile. While these devices are leveraged for productivity, they can also expose users to unwanted and potentially harmful content if not properly secured. Yet securing these devices across an organization that also leverages other devices, such as Windows devices, can prove to be difficult. This becomes even more challenging when multiple users share a single device or if the devices are taken home. The iboss Cloud Platform allows organizations to quickly secure across all Apple devices in the cloud regardless of device location. The result is consistent security and filtering policies designed to increase access to technology while also providing the granular user based reporting required by administrators.
Secure across all iOS and macOS devices in the cloud
The iboss Cloud Platform provides support for all Apple operating systems including iOS and macOS. The iboss macOS cloud connector seamlessly connects macOS laptop's and desktops to the iboss cloud for secure web protection. In addition, the cloud connector provides transparent single sign-on and automatically applies the appropriate policy to the user while attributing log events to the specific username on the device. The iboss iOS cloud connector automatically connects iPads, iPhones and other Apple iOS devices to the iboss cloud for consistent security regardless of device location.
Extend security and filtering for users while they are on network, on the road or working from home
The iboss Cloud Platform secures users wherever they roam by delivering consistent web security in the cloud. Devices are always connected to iboss cloud for protection, which includes on network, on the road, or at home. This ensures a consistent cloud security policy is applied at all times and visibility into user cloud activity is always available.
The iboss cloud connectors take all of the complexity out of connecting Apple iOS and macOS devices to the cloud as well as eliminate the challenges involved in performing transparent user sign-on so that policies and reporting are unique to users wherever they roam.
Step-By-Step Overview
See a Step-By-Step Overview of the Cloud Connector for iOS
Single Sign-on creates a better user experience that eliminates the need for multiple log ins on the same device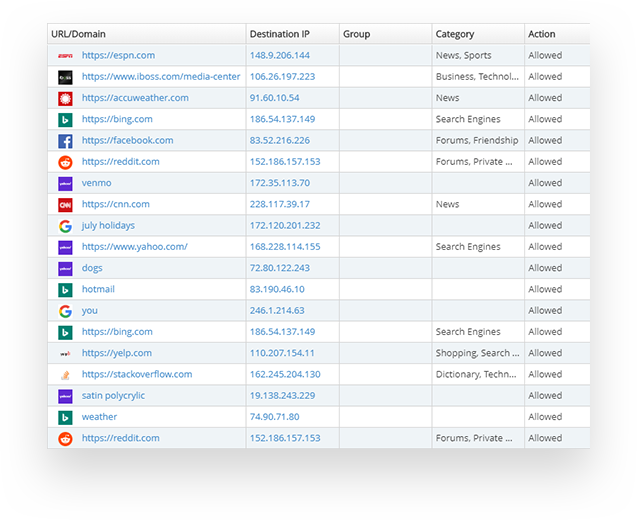 The iboss cloud connectors for iOS and macOS also automatically extract user identity that is used to assign the appropriate policy to the user logged into the device. This ensures users receive dynamic and unique policies, so the appropriate level of access is granted for productivity. In addition, web activity generated from the device is automatically associated with the username of the user on the device for accurate and meaningful reporting. The iboss cloud connectors perform the function of identifying the user without any user intervention resulting in a seamless user experience.
Buy Now
The iboss cloud can secure user Internet access on any device, from any location, in the cloud. Best of all, you can start using it immediately to protect your users instantly.
What you get
In the cloud Internet security
Advanced Internet malware protection that follows users
Advanced cloud and SaaS controls
Web filtering and compliance controls
Internet security for in-office users without appliances
Branch office Internet security without data backhaul
And a lot more…
Contact Us
Get in touch with a technical specialist
for a live demo.
North America Sales:
877-742-6832 X1
Contact local distributor or:
[email protected]
International Sales:
858-568-7051 X1
Contact local distributor or:
[email protected]
EMEIA Sales:
+44 20 3884 0360
Contact local distributor or:
[email protected]